Candidate Info
Not participating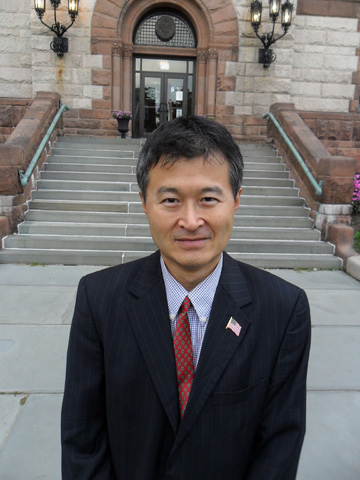 Address:
400 Broadway
Cambridge, MA 02141
Contact:
Email:
jameslee@electjameslee.org
Website:
http://www.electjameslee.org/
Tel: 646-234-3515
Dear Cambridge Residents, I am James Lee, a proud longtime resident of Cambridge. As someone who has recently become a US citizen, I am running for the Cambridge City Council because I care deeply about serving the common good of my beloved Cambridge community and my adopted home country, the United States of America. Serving on the Council is a way for me to give back to this community and country that have welcomed me and given me so much. I believe that Cambridge is the very best that America represents: a diverse, tolerant, well-managed and forward-looking community that is a model for the rest of the country, a "city upon a hill" to which other cities and communities can look for inspiration. As a new first-generation American, I believe in the American Dream. And I believe there is a need for someone like me on the City Council who understands firsthand the aspirations and struggles of the immigrant life and of all those from the four corners of this globe who come to Cambridge for work or study. A native of South Korea who came to the United States at age 16 in 1984, I graduated from high school, college and graduate school all in Massachusetts, which is my home state. For most of the years since 1995, I have been a resident of Cambridge where I obtained my Ph.D. from Harvard in 2003 and where I stayed on for work. My work experiences include teaching appointments at Dartmouth College, Bowdoin College and Stonehill College and a long-running research affiliation with Harvard as a Center Associate at the Davis Center for Russian and Eurasian Studies. Since 2007, I have also gained substantial experience in the business sector, with work at a boutique financial services & business consulting firm. This experience has taught me a lot about drivers of success for entrepreneurs and businesses small and large in industries such as technology, renewable energy and life sciences. It has also taught me much about non-profit organizations and governments at central and local levels. I have always been passionate about serving the Cambridge community, having been a regular volunteer at the Harvard Square Homeless Shelter and St. James Summer Homeless Shelter in Porter Square since the 1990s as well as other community service programs. My interest and participation in American civic and community life began during my high school years in Andover, Massachusetts. I was then a foreign student freshly arrived in the United States, and many things about life in America were unfamiliar to me, but I decided to serve the local community in which I found myself. I started by volunteering at a mentoring program for inner city children in neighboring Lawrence, Massachusetts. During my college years at Williams College in Williamstown, Massachusetts, where I majored in political science and art history, I volunteered at a mental health clinic in neighboring North Adams and spent a summer in 1988 as an intern at the headquarters of the campaign to reelect the late Frank Lautenberg, then a progressive Democratic US Senator for New Jersey. I was placed in that campaign headquarters by SANE/FREEZE, a NGO in the peace movement that advocated a world free of nuclear weapons and verifiable nuclear arms reduction treaties with the Soviet Union. I learned a lot about American politics then working with professionals such as James Carville, the campaign manager, and Paul Begala, the campaign press secretary, both of whom went on to play major roles in the election campaigns of President Bill Clinton. Among the causes I fought for that summer was a boycott against a plan to store nuclear weapons aboard Navy vessels docked inside the New York City harbor. I remain to this day firmly committed to causes of peace, environment & sustainable development, and a world free of nuclear weapons. It was one of the great moments of my life when I became a US citizen about two years ago. On a beautiful September day in the John F Kennedy Presidential Library in Boston, I attended my citizenship ceremony along with dozens of new Americans from hosts of nations around the world. As I reflected on the meaning of that moment and looked around the smiling faces of my fellow new Americans, I came to personally appreciate fact that the United States is truly the first universal nation in human history, a nation of immigrants drawn from nearly every nation on the face of the earth. November of last year was another great moment in my life, when I voted for the first time in US elections. For me, exercising my newly won right to vote was not only a sacred duty but also a vote of confidence in the future of the United States, a wonderful country whose best days are still ahead. And now, I am running for the Cambridge City Council because I am eligible not only to vote but also to serve the public good by serving as an elected public servant, something which I could not do in the past because of my lack of US citizenship, which limited my full participation in American government and community life. My fellow Cantabrigians, it is with this story of my life that I ask for your support for my candidacy for the Cambridge City Council. As a City Councilor, I will fight for you and strive to make Cambridge an even better place to live and work for everyone, not just the most vocal or deep-pocketed interest groups. My fellow Cantabrigians, I look forward to representing you as your City Councilor with utmost integrity, honesty and professionalism. If elected, I will work with my fellow City Councilors, the City Manager, the School Committee, the School Superintendent and all other relevant parties for a responsive city government serving the people of Cambridge, in effective partnerships with all stakeholders, whether they be neighborhood associations, businesses, labor unions, academic institutions or other non-profit organizations. I invite you to read below my campaign platform outlining the issues and areas of priority. And, please, do not hesitate to call me or email me for whatever reason that is on your mind, as I am most eager to talk with every single one of you. No issue on your mind is too trivial, and no problem is too big if all of us work together to make Cambridge a better place. May Cambridge continue to be a beacon of light for the United States! Sincerely and gratefully yours, James
Candidate Stances
Abolish Involuntary Poverty In Cambridge Over The Next Five Years
Take A Stance
Cambridge Is Experiencing Serious Traffic Gridlock Morning And Evenings
Support
Campaign Finance Reform
Take A Stance
Community Walk And Bike Path Along The Grand Junction Railroad
Take A Stance
Investment In Our Public Schools
Take A Stance
Low And Medium Income Housing -- Increase In Density Or ....
Take A Stance
Low And Moderate Income Housing -- Inclusionary Zoning Results In 25% Affordable Housing.
Support With Reservation
My answer here is a qualified Yes, as I am not familiar enough with the details of this particular issue, but I support the general idea.
Net Zero Buildings
Support With Reservation
Until I learn more details, my answer here is a qualified Yes. This sounds like a sensible proposal but am not sure why this is limited to large new buildings only and not sure if there will be enough incentives/support given to the developers/builders/occupants of the new buildings to make all this economical/cost-effective for them
One Year Moratorium On Construction To Study Impact Of Development On Livability.
Support With Reservation
My answer here is a qualified Yes, as I am not familiar enough with the details of this particular issue and am not sure if one year is enough time to conduct such a comprehensive assessment/analysis (and also not sure if conducting such a comprehensive assessment/analysis is technically feasible and cost-effective enough), but I support the general idea.
Plan E Charter
Take A Stance
Privacy -- Police Public Safety Security Cameras
Take A Stance
Public Toilets On Cambridge Common
Take A Stance
Reject Dramatic Up-Zoning Changes In Central Square.
Support With Reservation
My answer here is a qualified Yes, as I am not familiar enough with the details of this particular issue, but I support the idea of human scale development and am against dramatic up-zoning changes.
Terms Limits
Take A Stance
The Foundry
Take A Stance