Candidate Info
Not participating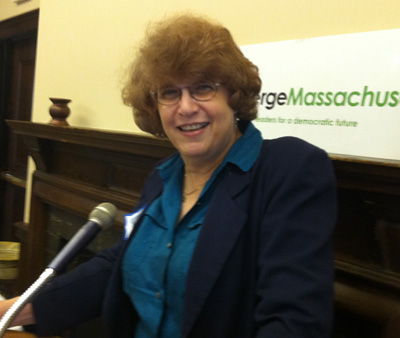 Address:
1643 Cambridge St.
Cambridge, MA 02138
Contact:
Email:
Lesley.Phillips@yahoo.com
Website:
http://www.ElectLesley.org/
Tel: 810-394-1317
Cambridge is at a crossroads. For the first time in a lengthy generation, there is new executive leadership at the helm of our City. Sadly, and without in any way disparaging the estimable skills and talents of our new City Manager and his top staff, this leadership era is commencing under a cloud of suspicion left by the short-circuited process by which it was installed. When the search for our new City Manager began, the then City Council promised the citizens of Cambridge both an open, public and meaningful visioning process by which the people would determine what kind of leadership we wanted, and a open national search for that leadership. Neither ever happened. While a small minority of the council attempted to protest this process, it was too little effort by too few. Only a predominantly new council will have the ability to correct these mistakes. Our beloved city deserves no less. It is in this atmosphere of creating a new Cambridge City Council that will truly have the ability to restore a full sense of openness and accountability to our municipal government that I have chosen to seek a seat on that council. Never one to blindly accept the status quo or the presumed prerogatives of the self-appointed powers that be, I want to see a council that is both truly visionary in its guidance of Cambridge's present and future, and also makes itself accessible and responsive to the needs and concerns of all those who live, work, study or visit here. In their training for professional ministry, students are introduced to the oft-quoted statement that their job will be "to afflict the comfortable and to comfort the afflicted". I have long held to this rubric in my approach to political involvement, from my participating in the founding and leadership of the Progressive Democrats of Cambridge to my two terms as an elected district representative on the Massachusetts Democratic State Committee. It is with the passion to better the lives of our neighbors and the life of our city that I ask for your support – and most importantly, your No. 1 vote – on Nov. 5.
Candidate Stances
Abolish Involuntary Poverty In Cambridge Over The Next Five Years
Take A Stance
Cambridge Is Experiencing Serious Traffic Gridlock Morning And Evenings
Take A Stance
Campaign Finance Reform
Take A Stance
Community Walk And Bike Path Along The Grand Junction Railroad
Take A Stance
Investment In Our Public Schools
Take A Stance
Low And Medium Income Housing -- Increase In Density Or ....
Take A Stance
Low And Moderate Income Housing -- Inclusionary Zoning Results In 25% Affordable Housing.
Take A Stance
Net Zero Buildings
Take A Stance
One Year Moratorium On Construction To Study Impact Of Development On Livability.
Take A Stance
Plan E Charter
Take A Stance
Privacy -- Police Public Safety Security Cameras
Take A Stance
Public Toilets On Cambridge Common
Take A Stance
Reject Dramatic Up-Zoning Changes In Central Square.
Take A Stance
Terms Limits
Take A Stance
The Foundry
Undecided